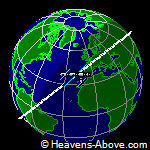 During the middle of last week I revisited a site I haven't browsed to in a while. Heavens-above.com can be used to, among other things, determine when the International Space Station is visible in your part of the world. You plug in your lat and long (or choose your city from a menu) and the site will tell you when you can see the ISS float by with tables showing the time, the direction, the azimuth etc. I used to do this more often a few years ago; I'd grab Suzanne and we'd rush outside and watch this bright dot go overhead. I'd marvel, and Suzanne would pretend to be interested. It was more interesting to watch it magically appear or disappear in the middle of the sky as it came out of or went into the Earths shadow. I also used this site to predict Iridium flares which are awesome. Should do this again sometime…
Anyhow, this week I saw that on Friday night it'd be visible for a good 10 minutes going from horizon to horizon with a maximum altitude of 60-odd degrees (not too bad on the neck muscles) and an amazing magnitude of -3.2. Very bright indeed.
So, when I got home Friday night I had about an hour to give Jett and Ashton a quick lesson in orbital mechanics and an even quicker history on the construction of the ISS. I'm pretty sure they got the gist of it all; that the ISS goes around the Earth, it's a joint project between the Russian, American and European space agencies, that it needs to be around dawn or dusk if you want to see it etc.
So, with that in mind I thought we'd bring up NASAs own tracking map so we could see exactly where it was, and so we could run outside at the right time, but unfortunately that map is turned out to be hopelessly inaccurate at the time. Not sure why, maybe it misread the time/timezone from my system clock but it seemed to be way out. So we made do with the map at Heavens-Above.com which was fine. We saw that it was flying right over London, England and its path would bring it over Perth via India all in about 35 minutes. Pretty fast!
So, at the appointed time which turned out to be about 5 past 8 we wandered outside and turned it into a competition to find the space station first. It wasn't hard. We all knew it was coming from the north-east. When it came it was easily the brightest thing in the sky besides the moon. Ashton asked me if I was really serious about Sirius being the brightest star. Haw Haw.
So, yeah we watched it for a few minutes. A silent, bright light floating by. I think Ashton lost interest pretty quickly but Jett stayed the whole time.
The thing is, for the rest of the night and for most of the next day Jett would ask, "Dad, where is the space station now?" and he'd demand to get back into the computer to use the "space map" to find it. This would happen about every half hour. Once he found out where it was, he'd run around the house and give status updates to Suzanne and Ashton. "Mum, it's over Japan now!" He asked me to find pictures and the names of the current crew too. I wonder why this has captured his imagination so much? And I wonder how long it will last.
Next weekend I plan on breaking out the old telescope and pointing it at Mars which is currently close to opposition. Moons's a bit bright now, so we'll wait a week.